We had conducted dharna against Marriage Laws Amendment (2010) Bill on Saturday, 26th May, 2012 in front of Town Hall, Bangalore.  Here are some of the coverage and discussion in media due to our dharna:
1. Article dated 27th May 2012 on the 3B, Bangalore edition of Prajavani (Deccan Herald Group) with the tag line "Mahila daurjanya Purushara prathibatane":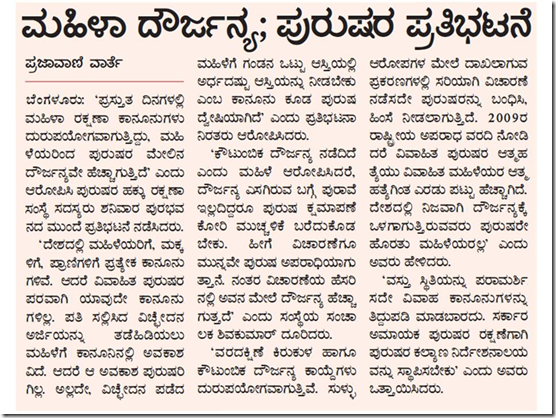 2. Panel discussion on Suvarna News channel from 6:30-7:30 pm on Sunday, 27th May 2012 about IrBM (Irretrievable Breakdown of Marriage Bill) with the program title being "Gandana Golu" (Husband's plea) where our activist Mr Santosh Patil represented the men's point of view.
3. News covered in Indiawires.com:
http://indiawires.com/10861/news/national/men-protest-against-marriage-laws-amendment-bill/
4. Good coverage in Cities Section (Bangalore) of New Indian Express on 29th May 2012: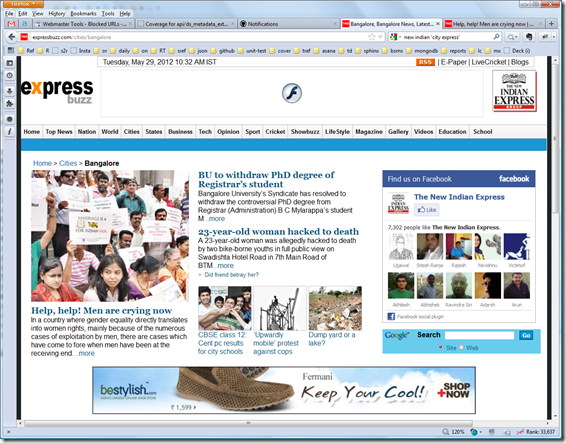 http://expressbuzz.com/cities/bangalore/help-help!-men-are-crying-now/396236.html
Full news below (Note: contrary to reporting in news story, Centre for Men's Rights (CMR) is an independent organisation with its own charter and principles and is not affiliated with SIFF or any other organisation)
Last Updated : 29 May 2012 09:18:21 AM IST

BANGALORE: In a country where gender equality directly translates into women rights, mainly because of the numerous cases of exploitation by men, there are cases which have come to fore when men have been at the receiving end. In a connubial gone awry, the Indian traditional and cultural protocols have mandated the society and the law to stamp men as misogynists, concupiscent, greedy, begrudged and every other characteristic that is immoral.      

Branded as villains, men hardly have any option to turn to when a marriage fails. According to the National Crime Records Bureau (NCRB) data, 'Every year, over 62,000 married men commit suicide due to verbal, emotional, economic, and physical abuse and legal harassment. The suicide rate of married men is double that of married women. One married man is committing suicide in every nine minutes.'

But now there is hope. Centre for Men's Rights (CMR), set up by a group of young men is aimed at preventing abuse of men's rights.

Part of the Save Indian Family Foundation (SIFF), a registered non-profit organisation headquartered in Bangalore, they aim to reduce suicide rate of men and create more acceptability and choices for men in the society.

The organisation recently held a dharna in front of Town Hall to raise their voice against the same. They have condemned the approval by the Union Cabinet recently to changes in Hindu Marriage Act under 'Marriage Laws (Amendment) Bill, 2010'.

According to CMR, the evidence of anti-men bias in the bill is that in spite of the fact that 80-85 per cent of divorces are initiated by women, the Bill aims to 'empower' wives to veto any divorce filed by husbands on grounds of 'irretrievable breakdown of marriage' while the husbands who want to save the marriage will not be allowed to oppose similar petition by their wives.

Deepak, an active member of CMR says, "We are not anti-women. In fact, I believe that a woman builds a foundation for the society. The purpose of the dharna was to protest against the proposed Irretrievable Breakdown of Marriage Bill and Right to Marital Property Act as per which a woman can be married for one day and become eligible for 50 per cent of the husband's property. In India, the proposed amendments will allow a wife to block husband's divorce petition but a husband will not be allowed to do the same if wife moves a divorce petition on same grounds."

He adds, "Today's women are much more educated and aware. How can you have laws which were framed aeons ago?"

Echoing the same sentiment is another member Shivkumar, who says, "A lot of women participated in the dharna. Their brothers and fathers have been through such injustice too. My point is-Don't segregate good and bad in terms of gender. One example is the Domestic Violence Act which assumes that men are always perpetrators and the moment the petition is filed, the magistrate has to order some kind of interim maintenance, where the man is drained financially even without any investigation. We even have laws against outraging women's modesty. What about the sexual abuse which happens with men? Don't we have any modesty? Today, filing a dowry harassment case is much easier than ordering a pizza. We are considered guilty even before proven otherwise. I am not denying that women are abused, but ensure that men are protected too."

CMR believes that while most democratic countries have laws related to family, divorce, domestic violence, and sexual harassment which treat men and women equally in all these areas, the Indian approach is unique in formulating laws ignoring the equality of sexes granted under the Constitution.

In India's gender war, there are almost 60 websites, which are committed to promoting the well-being of men in India.

Though the social indicators say that Indian women are clearly far behind men and where less than half of the women in India can read or write, compared with 75 per cent of men, men's groups still claim that they are increasingly subject to myriad forms of discrimination in the name of development.
5. Centre for Men's Rights emphasizes on equality:
http://www.bangalorewishesh.com/home/headlines/27226-centre-for-mens-rights-emphasizes-on-equality.html
6. Good coverage in Vijaya Karnataka of 14th Jun 2012: