It is no hidden secret that IPC 498a is a weapons of human rights abuse of husband and his family/relatives, and judiciary including Supreme Court has given instances of its gross misuse and directives to government and law ministry for prevention of IPC 498a misuse and amendments.  Some police circulars have been issued in various states to prevent arbitrary arrests under 498a, but they are often not followed by police.  The suggestion to law ministry for amending 498a has also been pending for 2 years.
We analyze the conviction rate and arrest rate (number of people convicted/ number of people arrested) under IPC 498a using 2012 data from National Crime Records Bureau (NCRB).
From page 33 of compendium issued by NCRB for 2012:
Cruelty by husband or his relatives (Sec.498-A IPC)
(Incidence: 1,06,527  Rate: 8.8)
A total of  1,06,527  cases were reported in the country during the year 2012 showing an increase of 7.5% over 2011 and an increase of 21.1% over the average of last 5 years (2007  –  2012).  In terms of percentage, 43.7% of such crimes in the country were reported from three states  only  namely  West Bengal (19,865  cases), Andhra Pradesh(13,389  cases) and Rajasthan (13,312 cases). Tripura has reported the highest crime rate of  23.4 followed by West Bengal (21.9) and Assam (20.6)  as compared to National average of 8.8.
Following table shows our calculations based on data in NCRB report.  Our methodology is as follows:
1. Our main objectives are to find the ratio of number of convictions under IPC 498a versus the total number of cases filed, and ratio of number of arrests under IPC 498a versus the total number of cases filed.
2. Why do we use IPC 304B data also?  It is so because IPC 304B (dowry death) is applicable in case where a woman has died within 7 years of her marriage, and IPC 498a (Cruelty by husband or relatives to married woman) is always added as an additional charge along with IPC 304B by police.
3. So we deduct the numbers relating to IPC 304B to arrive at the total number of IPC 498a only cases in 2012, and then calculate the conviction rate in 498a cases = convicted/total 498a cases
4. Similarly we use the data from NCRB compendium on number of arrests in 2012 under IPC 498a, and use that data to calculate percentage of people arrested under IPC 498a = convicted/total 498a arrests
5. Unlike previous years, the 2012 report does not give data on number of persons arrested under each IPC, so it is not possible to analyze based on arrest and disposal figures. However, we have attempted a good approximation using the disposal of cases.
6. The approximations used (given lack of time-series data by NCRB) are: the disposed cases belong to earlier years whereas the number of arrests are from 2012, so given the increasing number of IPC 498a cases every year, the convicted/arrested figure will be slightly higher than our calculation.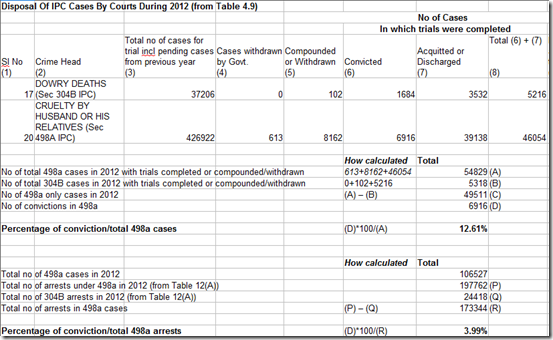 So we come to the grand conclusion, the open secret, the lifeblood of Indian bail industry: that IPC 498a is the best way to slow and clog down the criminal courts, to make money for legal system to arrange bail for 1.97 lakh people (and increasing) arrested every year.  With percentage of convicted people to arrested people at 4%, is surely goes in line with the judicial maxim "It is better that ten guilty persons escape than that one innocent suffer".  When you arrest 25 people to convict 1, that must be a sure sign of a great civilization near the Indian ocean on a sure and steady path to become the next superpower!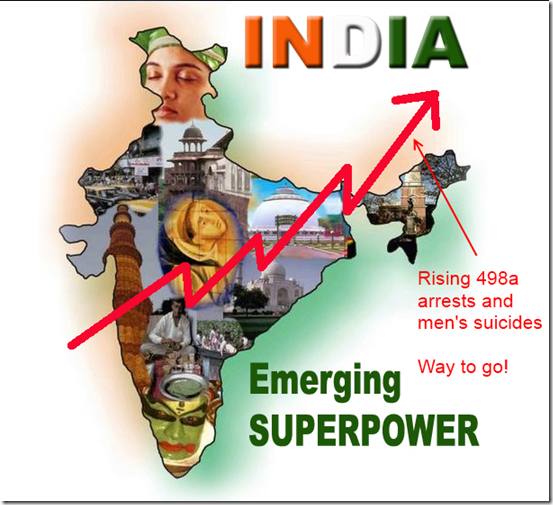 While this data analysis has been done for whole of India, another NGO Family Harmony has done analysis based on RTI replies from Bangalore police stations, and they report a magnificent success ratio of 0.66% for whole of Bangalore for the number of convictions/number of arrests within Bangalore city.  Kudos are due to both Bangalore police and its courts for wasting taxpayer money in such effortless way while striking terror at the hearts of all husbands and their families!