A recent news from Belagavi says that an honest officer T B Majjagi was hounded due to a false sexual harassment complaint filed against him.  However, he was able to come clean in all enquiries and it was found that the complaints against him were filed with malicious intentions.  Below is coverage of the news from the Times of India newspaper: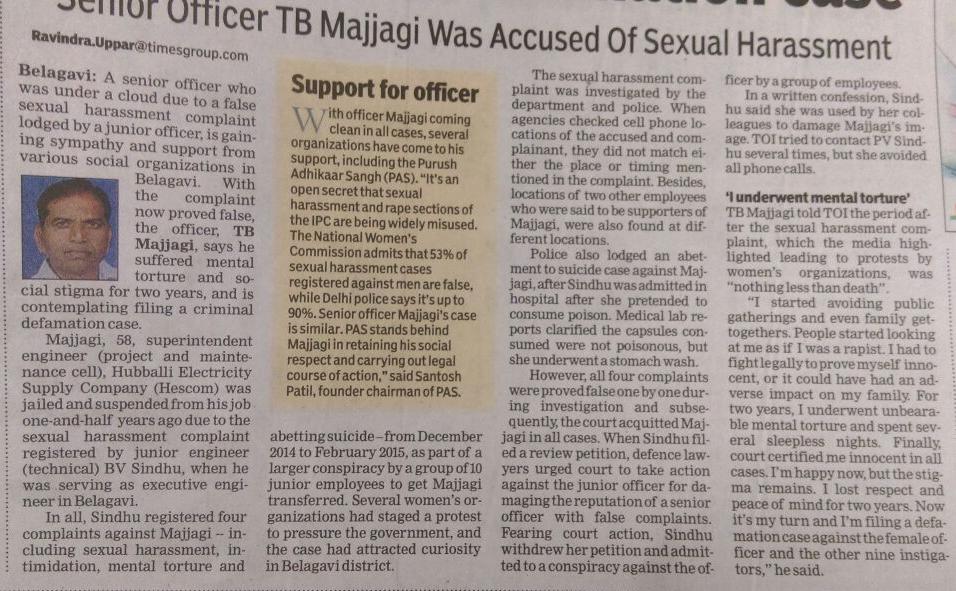 Purush Adhikar Sangh has highlighted the misuse of laws like sexual harassment and even rape law.

Need for amendments
1. Purush Adhikar Sangh condemns use of sexual harassment law as a tool to settle scores, pull down political or organisational rivals, or simply to bring down an honest person whose work and propriety cannot otherwise be under any question.
2. No media trials should be conducted of the accused men.  If media is unable to exercise control in the matter, then the law should be amended so that identity of the accused is kept secret until trial/enquiry is over.
3. Also, the sexual harassment law in India in current form protects only women, and it is high time that it is amended to be made  gender-neutral so that men can also claim protection under the same law.