http://www.ndtv.com/elections/article/election-2014/vote-for-us-will-check-misuse-of-anti-rape-law-says-mulayam-s-manifesto-503640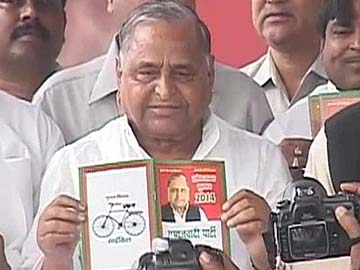 Lucknow: Mulayam Singh Yadav believes that voters should pick his Samajwadi Party because it will fight to check "the large-scale misuse" of the tougher anti-rape law introduced after the fatal gang-rape of a young woman on a moving bus in Delhi. His commitment was made in his party manifesto which was released today.

…

When the new laws were proposed in Parliament, Mulayam Singh Yadav's party had objected to features including stalking being made a criminal offence, arguing that they could be twisted to implicate men in fake case.

"There is a large scale misuse of laws including anti-dowry, SC/ST (atrocities prevention) act and the new anti-rape law that came into existence after 'Nirbhaya' rape case…SP is in favour of implementing them strictly and at the same time will initiate strict action against those misusing them," the party's manifesto said, adding that the laws are currently being misused without elaborating how.
Finally, a party which was known for opposing 33% women's reservation bill has come out strongly against men's rights violations by putting that in its 2014 Lok Sabha election manifesto.
Before release of this manifesto probably no one would have taken Samajwadi party's stance seriously terming them as backward because anything said against women's rights is automatically termed backward.  It is conveniently forgotten that guaranteeing 33% reservation to women in parliament violates men's rights because it allows women to get elected from all seats, but doesn't allow men to stand for election from women's reserved seats.  So in effect that percentage 33% guarantees many more than 33% women in parliament, never mind whether many of them want a career in politics (or a career at all).
The Samajwadi party has mentioned misuse of 3 laws:
1. Anti-dowry: IPC 498a
2. SC/ST (atrocities prevention) act
3. New anti-rape law: IPC 376 with the amendments
Two of these laws IPC 498a and IPC 376 are used against men and result in violation of men's rights.  IPC 498a results in arrests of women too so basically rights of many women in family are violated to supposedly protect rights of wives.
So this is a great milestone in Indian men's rights movement that a political party has the guts to call a spade a spade, and come out openly against abuse of laws against men.